As those who have visited New York's Morris-Jumel Mansion are aware, a wallpaper decorated with morning glory vines hung in the house during Eliza and Stephen Jumel's tenure, and an exact copy adorns the front parlor today. The reproduction was printed from wooden blocks carved specially for the mansion by H. Birge & Sons of Buffalo, New York, in 1916. But here's the kicker: I just discovered that Birge must have printed additional sheets. The same paper can be seen hanging in the William L. Brown House in Providence, Rhode Island—the city where Eliza was born—in a photograph from 1958. Perhaps the choice of paper made by the then-owner of the house stemmed from one of Jumel's early fictions. As a young woman with the maiden name of Bowen, she gave her surname as Brown instead, possibly to suggest an association with a family of wealthy Providence merchants named Brown.

| | |
| --- | --- |
| Front parlor of the Morris-Jumel Mansion, showing a twentieth-century reproduction of early nineteenth-century wallpaper that hung in the house when Eliza and Stephen Jumel lived there. | |
Whether the Madame Jumel paper is still in the Brown House, I do not know. But it may hang on other walls yet to be discovered. Birge printed a fresh edition of the wallpaper for the mansion just in time for the bicentennial in 1976. At the same time, the pattern was made available for sale to the general public as well by Reed Ltd, which had just acquired Birge. Anyone have the wallpaper hanging in their home, perchance?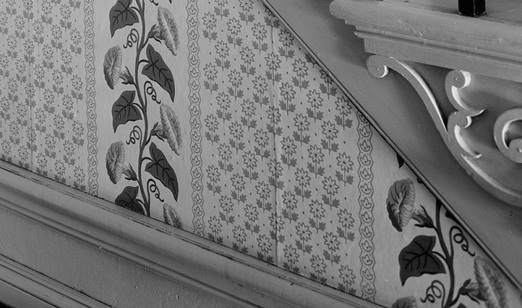 The visible seam in the paper makes clear that this wallpaper in the Brown House is the twentieth-century reproduction by H. Birge & Sons, rather than an early nineteenth-century original. It was clearly made in long strips rather than smaller rectangles that were pieced together (the latter being a distinguishing characteristic of wallpaper printed and hung in the eighteenth and early nineteenth centuries).