In 1858 Eliza Jumel rented and then purchased two adjacent lots on the northwest corner of 41st St. and Seventh Avenue—just south of today's Times Square. Initially a house on one of the lots housed Madame Jumel's great-niece and namesake, Eliza Jumel Pery, and Pery's husband and young daughter. But a year later the little family moved, first to W. 45th St. near Fifth Avenue and then further north to the East Sixties. This 1855 view of Midtown shows the northward march of the city that doubtless inspired their relocation to quieter surroundings.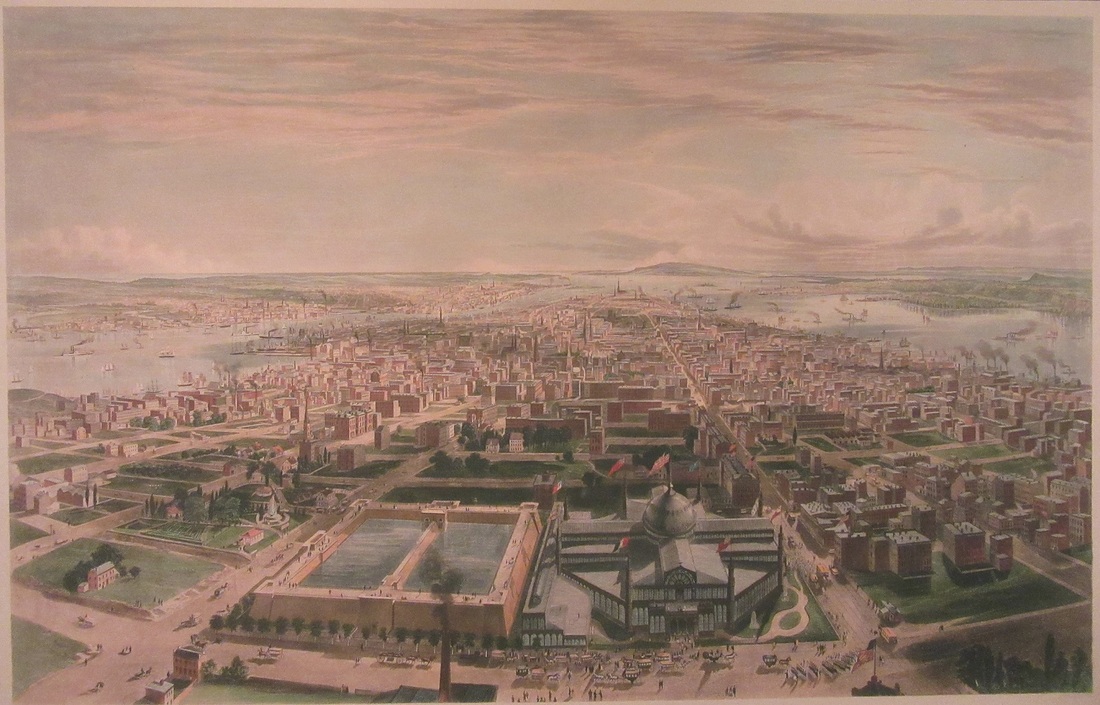 New York, from the Latting Observatory, 1855. New York Public Library. The view stretches from 42nd Street to the southern tip of Manhattan.
The reservoir at 42nd St. and Fifth Avenue, in the left foreground of the image, stored water brought to the city by the Croton Aqueduct (which crossed Eliza Jumel's uptown land). The reservoir was decommissioned in the 1890s—replaced by underground water pipes—and then demolished. The site became the home of the New York Public Library.

The iron and glass structure next to the reservoir, an exhibition space known as the Crystal Palace, sadly burned down in 1858. Forty-second Street runs in front of it, across the lower edge of the print. The avenues zooming towards us are Fifth Avenue to the left of the reservoir, Sixth Avenue to the right of the Crystal Palace, and Broadway to the right of Sixth. The image is not quite wide enough to encompass Eliza's properties at 41st St. and Seventh Avenue, which would be just beyond the right edge of the print.