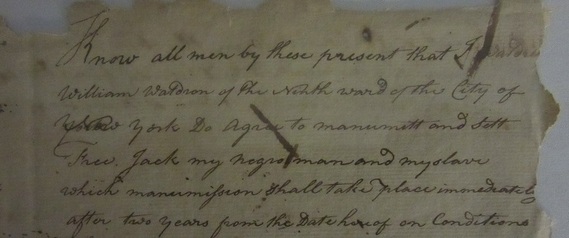 Detail of a manumission document from the archives of the Morris-Jumel Mansion, currently on exhibit at the house.
History buffs, don't miss a summer exhibit at the Morris-Jumel Mansion that has slipped in under the radar screen. It explores the subject of slavery in eighteenth- and early nineteenth-century New York through the lens of documents from the house's archives. One of the most interesting items is a paper promising freedom to a slave named Jack. His owner was a free black man, William Waldron—son of a Dutch-American father and enslaved mother. Waldron, like his father, became a farmer in Harlem who depended on slave labor—as did so many New York landowners in the eighteenth century. The document is a reminder that New York slaveholders were a more diverse group than we might think.

The exhibit, titled Cuffee Philipse: A Legacy in Documents, was organized by former Morris-Jumel Mansion archivist Emilie Lauren Gruchow.